Artificial Grass Prices In Perth – Costs Breakdown
Artificial Grass Price Guide. What determines prices? How to know you're getting not just the best price, but the best long term value Synthetic Turf in Perth.
So you've arrived here looking for prices on Artificial grass in Perth, well we won't disappoint. But you're probably also wanting to know how to get the best value from your synthetic lawn investment. Well here's a few things to consider:
The Perth synthetic turf industry has grown very strongly over the last few years and there are now a large number of companies and individuals offering synthetic lawns. With so many seemingly offering the same service and product it can be hard to see the wood for the trees. Going for the cheapest artificial grass prices has its downsides, and because of this, we aim here to help you make an informed decision by sharing the top factors that affect all turf pricing.
---
3 Main Factors That Affect Synthetic Turf Pricing
The product offered
The installation/service given
The businesses overheads/longevity.
Now I will explain each of these below.
---
1. Synthetic Turf Product Prices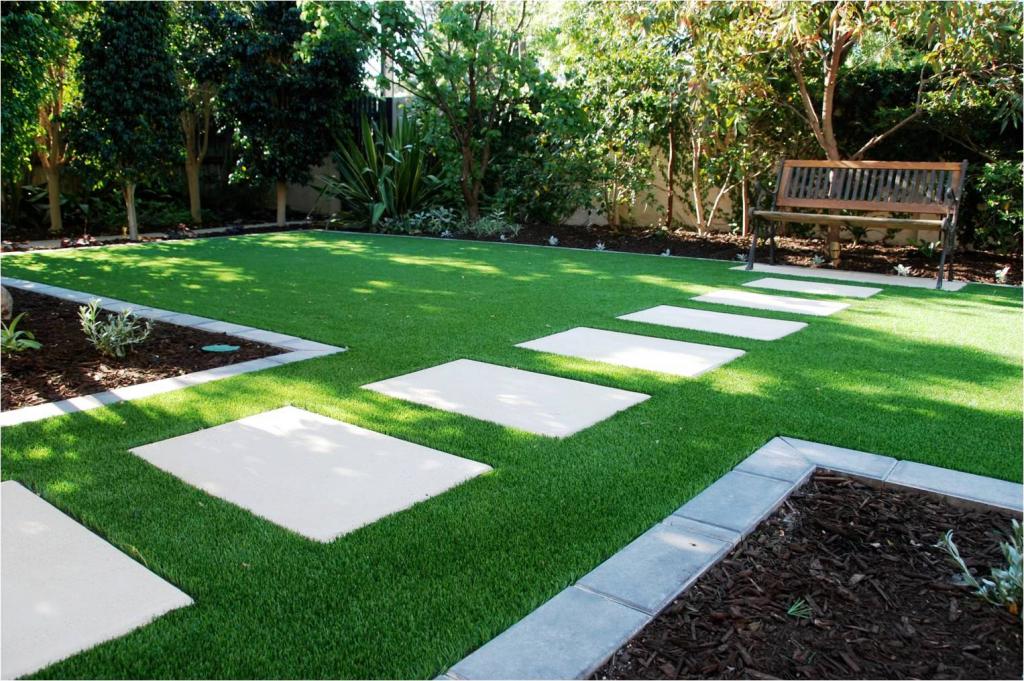 Synthetic Turf is not unlike any other product, there will be cheaper products that use lower quality materials or use less material (lower pile height, density, backing), and more expensive products using higher quality materials.
The country the grass is made in also affects price and quality.
Synthetic grass is manufactured all over the world including Holland, China and Australia. A reputable company will seek out partnerships with reputable manufacturers known for making good quality products from good quality materials.
Australian made grasses are the best quality, safest and longest lasting grasses on the market and they come with a warranty backed by a manufacturer based here in Australia. Australian manufacturers therefore have a big incentive to ensure their products are built to last.
As only the highest quality materials go into Australian made products, Artificial Grass prices are slightly higher than for imported grasses. Australian synthetic turf costs around $10-$20 per mtr2 more than imported turfs. For example, an average size job with a non-Australian grass might cost $3000. Upgrade to an Australian made grass and the figure could increase by $500-$1000. Synthetic Lawn is a long term investment, it can be a wise investment paying a bit extra (20%-30%) for the peace of mind Australian Made turf provides.
Here at Simply Synthetic Turf, we have a range of both Australian made artificial lawns and imported artificial lawns that have met our strict criteria for quality. We have a large range of imported grasses that use very high quality TENCATE yarns manufactured in the Netherlands. You can read more about this here.
Our Australian made grasses are priced just as competitively as our other products.
---
2. Perth Installation & Service Given
Our artificial grass installation cuts no corners.
Not to save time.
And not to save on any materials.
All of our synthetic lawns are professionally installed as follows:
A thick 75mm blue metal dust base is leveled and compacted thoroughly, ensuring that the ground stays flat and no weeds penetrate through the grass over time.
A 65mm road base and 15mm blue metal dust base is always installed as standard where cars or caravans may park at no extra charge.
The grass is expertly cut to ensure the grass sits perfectly against surrounding paved areas & the grass panels are carefully joined securing a seamless look.
The grass in pinned down every 0.5m around the edges and along joins, where possible concrete nails are also used to ensure the grass if firmly held in place.
Lastly, a thick layer of silica sand is evenly infilled into the grass at a rate of 15-20kg per m2 and brushed in, ensuring an even feel underfoot and to give the grass an extra layer of protection against wear and tear.
We pride ourselves on giving you a friendly knowledgeable service throughout the initial contact, installation and after sales service.
And we strive to ensure you get the best landscaping design to suit your budget.
Lastly, we always check up with our customers after the job completion in order to ensure you're completely happy with the final product.
---
3. Business Overheads/Longevity (Warranty!)
Bigger is not always better! Businesses that have large advertising budgets, have extensive shop fronts, sales people on commission, and use subcontractors, will have to factor these costs into their Artificial Grass prices with little extra benefit passing to the customer.
However whilst being lean is good, the popularity of Artificial grass has unfortunately brought out many unscrupulous installers who simply set up a business name and install low quality imported grasses offering 7 year warranties with promises of 20+ year life expectancy.
Many 'pop up' installers will work 'off the back of a ute' and undercut reputable installation companies, but when their grasses start to inevitably shrink and fade or the base integrity starts to fail, these 'businesses' simply vanish. Warranties are only useful if the installer is still in business!
Choosing a business that has been operating for a number of years and has 'put down roots' is just as important when selecting a synthetic turf installation company as choosing the right looking grass.
This is to ensure the warranty is backed by a solid long term business. You can check how long a business has been operating for and whether they are a sole trader or a company on the Australian Business Register.
At Simply Synthetic Turf we think long term as do all our Perth clients (we can give you a list of completed turf jobs around Perth upon request).
Our artificial grass prices and lawn selections are meant to last.
To back up this up we registered as a Company rather than a Sole Trader. We buy our grass in bulk, container direct from two manufacturers we have set up a direct relationship with and we've had a long term lease on a warehouse since 2013.
You will find that artificial grass installers prices range from around $50 to $150 supplied and installed per square metre.
Our artificial grass prices range from around $60 to around $95* per m2, depending on which grass you will be installing.
Keeping things small and lean at Simply Synthetic Turf, this lets us deliver such value at such prices, as well as a professional mobile service, we don't employ sales people on commission or subcontract out our work. All to ensure we can offer the best value prices in Perth on Artificial Grass Lawns. Most of our work comes through our website, leaflet drops and word of mouth.. no expensive marketing campaigns needed here!
---
At Simply Synthetic Turf, we aim to be your 'Middle Quote'
Out of 5 quotes, we are most often between second and third cheapest. This allows us to source great quality grass from reputable manufacturers and provide you a very thorough installation and service.
---
Why Contact Us for a Quote?
No Pressure Sales: We don't use sales people on commision. The Company owner does the quotes.
We think about every job from a long term perspect, as though it was our own garden we were installing.
Varied range of lawn types: Australian made, Imported, long, short, and lawns with different look/feel.
Time Tested: Lawns, workmanship and knowledge, comes from experiences, of being in business for ten years.
Book in a Quote Now
---
Or call or text Matt on: 0432 359 339
Simply Synthetic Turf Pty Ltd
I'm Matthew Branson, I'm the Company Director, Sales Rep, Installer and Office Administrator all rolled into one! I started Simply Synthetic Turf back in October 2012 as a sole trader. Today we are now a registered company and provide professional artificial grass installations throughout Perth & Surrounding. Get in touch with me today!